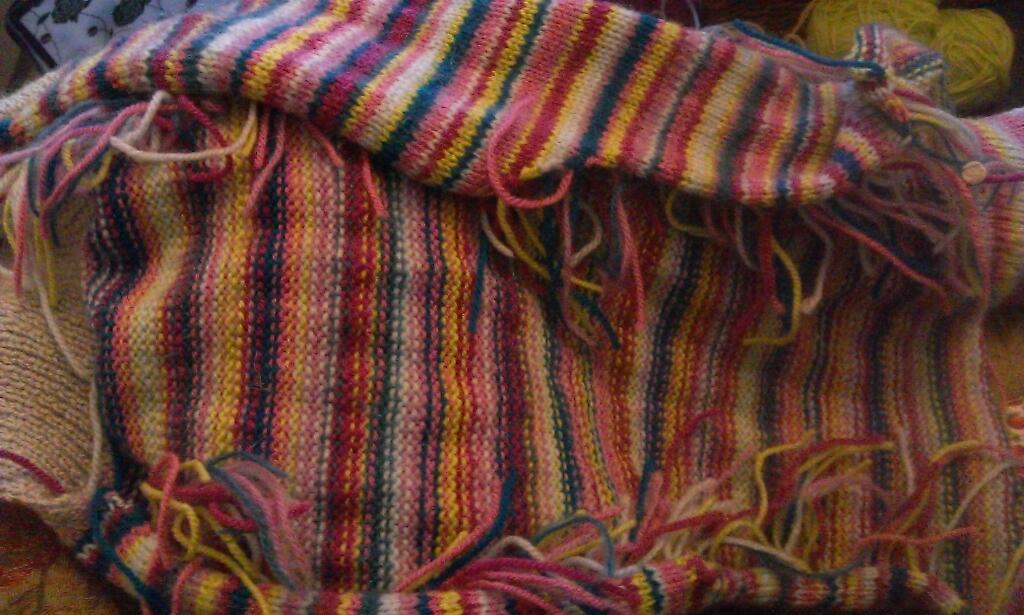 I find myself weaving in a thousand ends on a multi-coloured cardigan today. This particular cardigan has been sat at the back of the cupboard, half finished, for 4 years. I am currently between projects, as such, but instead of starting a new one I decided to get this one out. I can't explain why, I haven't had the slightest intention of finishing this cardigan, and when people ask me what project I regret starting, I tell them this one.
Recently we have come to realise that we have less money than we thought. "Who doesn't?" I hear you ask. Due to a mistake (read cock-up) at the council, our income has been reduced by £30 a week. A hefty amount when you don't have much coming in it the first place! So we started to sort out our finances, had a look at what we could sell to make a little bit extra, and what we could cut back on.
What could we cut back on? Well, that's a really good question, considering we don't really spend an awful lot of money. I've gotten a little more brutal in the kitchen, but there is really only one other thing I spend money on. Crafting. Crochet magazines, knitting magazines, wool, fabric, the list could go on and on. So that's it then, that's what I have to cut back on. Easier said than done though really.
So, for some unknown reason, I reached to the back of the cupboard this morning and pulled out this fabled cardigan. I have sat for 2 hours this morning weaving in all the ends so that I could sew it together and start on the sleeves. This got me thinking about why I started the cardigan in the first place.
When I first started knitting, I wanted to make a garment, but didn't have the money to buy all the wool I needed. When I found a pattern for a cardigan that promised to use up all my oddments of wool, and therefore not cost anything, I was raring to go. I got as far a the back and two front panels before I gave up, and it has sat there ever since.
Only now I have no money for wool or new patterns, and I still want to make things, so I will sit here until I have weaved in every thread. I will sew it up, and then I will knit both arms, and I will be wearing this cardigan within a week, and that's a promise. I won't buy any more wool until I have used most of what I have and finished everything I have already started.
And that's what it's all about isn't it? A bit of willpower and determination and seeing the problem through. I had no idea when I started this cardigan that it would come to mean so much. It has become my metaphor cardigan.